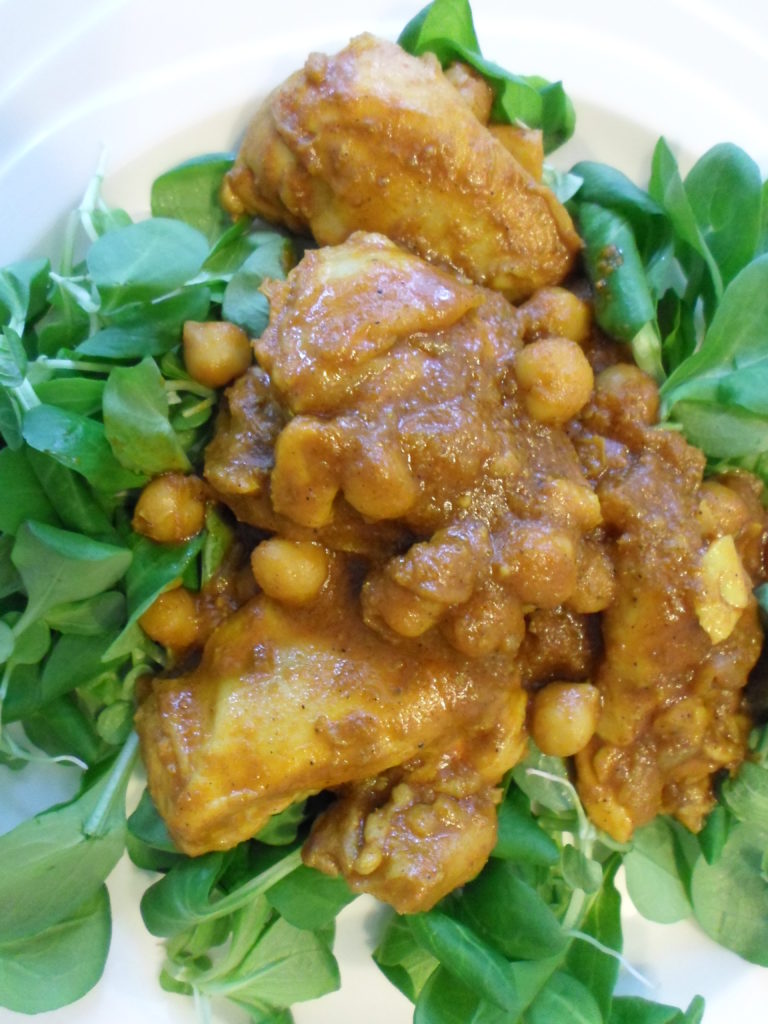 Kip in masala is een erg bekend gerecht. Het wordt ook wel kip in kerrie genoemd,maar kerrie is een eenvoudigere variant van de traditionele masala uit de Surinaams hindoestaanse keuken. Vroeger maakten mijn oma en moeder zelf masala door allerlei kruiden en specerijen te malen. Nu wordt het gewoon makkelijk verkocht in zakjes bij een Toko, gewone supermarkt of Surinaamse supermarkt. Masala bestaat uit veel meer kruiden en specerijen en heeft een speciale bereidingswijze en dat heeft kerrie poeder niet. Hierdoor proef je ook dat masala veel krachtiger van smaak is. Ik heb het gerecht gecombineerd met kikkererwten, heerlijke peulvruchtjes die ook ontzettend gezond zijn. Laat je me weten wat je van het recept vindt?
Het recept voor 4 personen
Tijdsduur met voorbereidingen 50 minuten
Ingrediënten
700 gram kippendijen in stukken
2 blikjes kikkererwten van 150 gram per blikje
1 klein blikje tomaten puree van 70 gram
4 eetlepels Chan's masala
4 (kleine) bouillonblokjes van Maggi
400 gram veldsla
2 eetlepels zonnebloemolie
1 fijngesneden ui
4 teentjes fijngemalen knoflook
flink wat zwarte peper uit de molen
flink wat paprikapoeder
300 ml water
evt. Madame Jeanette een stukje (Surinaamse peper)
Bereidingswijze
Verwarm de pan en doe de zonnebloemolie in de pan, het liefst in een grote wok.
Doe de fijngesneden ui en fijngemalen knoflook in de pan.
Meng de masala in de pan.
Roer het geheel flink om.
Doe de water erbij, roer het geheel goed om en zo zorg je ervoor dat het geheel een sausje wordt.
Doe de kippendijen en kikkererwten in het sausje.
Voeg de bouillonblokjes, zwarte peper, eventueel een stukje Madame Jeanette (peper fijngemalen) en paprikapoeder toe.
Roer het geheel om en voeg de tomaten puree toe en roer het geheel weer om.
Laat het geheel op een laag vuurtje sudderen voor ongeveer 35 minuten.
Roer het geheel om. Leg de veldsla op de borden.
Leg een schep van de kippendijen samen met de kikkererwten en masala saus op de veldsla.
En heerlijk smullen maar!!
Variatietip: kies in plaats van de veldsla voor bijvoorbeeld spinazie, kousenband of sperziebonen. Alle drie gebakken in zonnebloemolie en een uitje.

Variatietip: gebruik in plaats van kikkererwten bruine bonen. Of witte in bonen in tomatensaus.

Tip: vergeet niet tussendoor de saus te proeven. En erg belangrijk: de masala op een laag vuurtje tot een sausje maken, absoluut niet laten aanbranden.
Maak jij weleens een gerecht met masala? Ga jij dit recept klaarmaken?
Check nog een lekker recept in masala: krabscharen in masala
Veel kookplezier!!